26 September, 2017
By Bob Goss, senior technology specialist. Henkel Ltd.
---
26 September, 2017
Lee Cross Port Plugs are a plugging solution specifically engineered to seal cross port passageways. This configuration is a variant of the original Lee Plug that set industry standards over 65 years ago.
---
26 September, 2017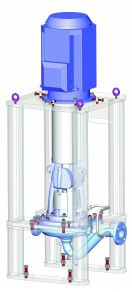 Amarinth, the company specialising in the design, application and manufacture of centrifugal pumps and associated equipment to the oil & gas, petrochemical, chemical, industrial and power markets, has secured an order from ZADCO for a super duplex API 610 OH3 pump, and utilising video conferencing significantly reduced project cost.
---
26 September, 2017
When faced with the challenge of helping to create a product to boost safety and efficiency for offshore engagement, Trelleborg developed a complete sealing solution.
---
25 August, 2017
Tim Duffy has been appointed as the new sales manager for Sunfab UK Ltd., taking over from Marc Burns who will now be looking after Sunfab USA Inc.
---
23 August, 2017
David McLean, hydraulics divisionai manager at Tidyco Ltd., discusses the type of design, service and maintenance provision end-users and OEMs should insist on from their hydraulic and pneumatic products and system providers.
---
23 August, 2017
By Martin Cuthbert, managing director, Webtec Ltd.
---
23 August, 2017
Dr. Cameron Watson, general manager, lubricants technology-OEM & direct sector, considers the importance of a wider understanding of the critical part lubricants play throughout the operational life of plant and equipment.
---
23 August, 2017
South Yorkshire-based Neilson Hydraulics is expanding its range of engine driven hydraulic power units to incorporate Hatz silent pack engines.
---
23 August, 2017
MP Filtri has designed a new bespoke diesel filtration unit featuring an ICM (In-line contamination monitor). The GRM503 is an essential piece of equipment for production line cleanliness and can be used in a wide range of sectors, from industrial through to mobile.
---
23 August, 2017
S3 Light
---
23 August, 2017
Power management company Eaton has expanded its hydraulic hose portfolio with the release of Eaton GH681 hose series, a new high performing one-wire braided hose qualified to 1 million impulse cycles.
---
23 August, 2017
Enerpac has introduced a new Ultra-Flat hydraulic cylinder series for those projects with small working space, starting at just 2,8 cm, but large lifting requirements up to 1000 ton.
---
23 August, 2017

Derek Lane & Co Ltd., based in Newton Abbott, Devon, has recently had its acceptance to manufacture hydraulic hose assemblies upgraded to the new DefStan 47-32 Issue 3 standard from the Ministry of Defence (MoD).
---
16 June, 2017
High pressure hydraulics tools specialist, Enerpac, is developing a webinar programme for distributors, customers and anyone else who regularly uses hydraulic tools.
---