Hydrotechnik UK extends calibration department
16 June, 2017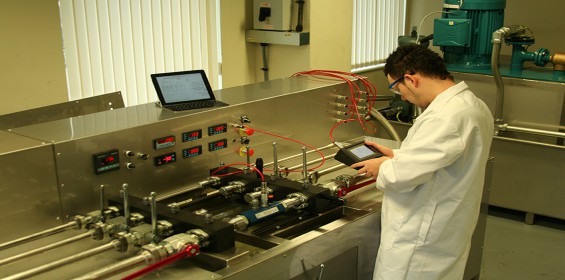 • If a sensor has taken a knock or undergone a strenuous series of tests, it can be prudent to re-calibrate it to ensure its accuracy is still intact.
• The calibration interval is best determined by the user. If it is out of calibration the costs can be high in terms of failed components, lost production or product recalls. If in doubt, get it calibrated – the cost will be less than losing a customer.
Calibration regulatory bodies
The leading calibration regulatory body in the UK is UKAS, which certifies organisations who meet set guidelines. UKAS examines both an organisation's equipment and the procedures carried out to calibrate instruments. Similar bodies exist across Europe; such as DKD in Germany.
What Hydrotechnik UK can offer
Hydrotechnik UK has invested in a range of UKAS and traceable calibration equipment; from its temperature-controlled flow meter testing rig to a new dead weight pressure tester and state-of-the-art temperature bath.
Sharpe oversees day-to-day calibration at Hydrotechnik UK and recognises the benefits of new equipment. "The new equipment enables us to accurately calibrate flow meters, pressure, temperature, analogue & digital gauges, displays and data loggers to national, UKAS and DKD traceable standards," he explained.
Providing this service in-house enables Hydrotechnik UK not only to meet its own and its sister company's calibration needs, but also to meet customers' expectations for a cost-effective service and quick turnaround on critical projects.
In addition, Hydrotechnik can offer instrumentation repairs and functionality checks. Also, through its sister company Filtertechnik, it can offer particulate monitor/tester
re-calibrations.
For competitively priced and accurate calibration with a rapid turnaround, freephone Hydrotechnik UK on 0800 068 4134 or download the company's brochure:
www.hydrotechnik.co.uk/calibration-services
---