​Made Smarter reaches major milestone backing 200th business
30 November, 2021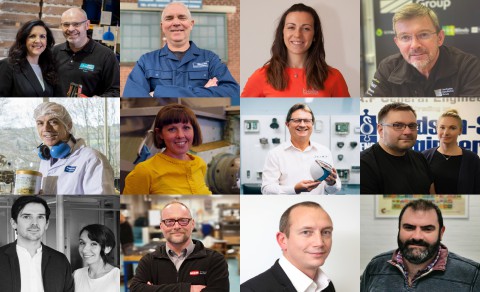 Qualkem, based in Crewe, is investing in a new automated production line that is forecast to increase turnover by 25% over the next three years, creating two new jobs, and drive sustainability in its market.
Ivan Anketell-Clifford, director, said: "Introducing the automatic tube labelling and filling machinery will see the start of our commitment to digitalisation. Not only will it allow us to offer another packaging regime to our existing customer base, but it will also allow us to actively market to new sectors, for example the cosmetics sector. Moreover, this digitalisation project will allow us, and our customers, to do our bit for society and the environment, and place more sustainably packaged products on the marketplace."
ULEMCo, based in Aintree, adopted new 3D scanning technology to increase the productivity of its design process and mitigate against manufacturing waste to develop a more sustainable product.
Jordon Cullen, engineering design manager, said: "The 3D scanning equipment has now become an essential technological tool that is utilised in the early stages of the design process, where accuracy is the most fundamental factor in the success of the final manufactured component. It has reduced a previously manual measuring process from 24 to eight hours and increased accuracy. There has been a significant advancement in the productivity of the design process, allowing us to get to the final product quicker and more efficiently. Meanwhile, we have been able to create a job role for a new graduate design engineer to join ULEMCo's team."
Juergen Maier CBE, co-chair of Made Smarter, said: "We launched Made Smarter in the North West three years ago with the ambitious aim to kick start an adoption programme for digital technologies among small and medium-sized enterprises, strengthened by leadership training and harnessing talent within universities.
"It is fantastic to see the tremendous impact that the programme continues to have on individuals, businesses, the UK economy, and the environment.
"It is clear from the unequivocal success we are seeing in the North West, and the positive effect adoption programmes in the West Midlands, Yorkshire and Humber, and the North East, are having that we are starting to grasp the multitude of opportunities that innovation and digital technologies offer. It is clear that for the UK manufacturing sector to thrive and become a world leader, we now need to roll out Made Smarter nationwide and with a stronger ambition."
Since launching in 2018, Made Smarter has engaged with 1,381 businesses from every corner of the region to help them introduce digital tools and technologies to help boost productivity and growth, navigate Covid-19, and tackle climate change.
670 have reaped the rewards of intensive support including expert, impartial technology advice, 248 have used digital transformation workshops to help take their first steps to transform their business, and 56 business leaders have developed the vision and the skills to pursue smarter manufacturing through the Made Smarter Leadership programme, developed in partnership with Lancaster University. Meanwhile, manufacturers have benefited from funded digital technology internships which offer students and graduates paid placements to work on live technology projects.
---
AIR-TECH EXHIBITION


16 April, 2024, 9:30 - 18 April, 2024, 4:00




Hall 9, the NEC, Birmingham, UK

FLUID POWER & SYSTEMS EXHIBITION


16 April, 2024, 9:30 - 18 April, 2024, 4:00




Hall 9, the NEC, Birmingham, UK