DFA Media gears up for the safe return of its long-anticipated co-located events in January 2021
16 September, 2020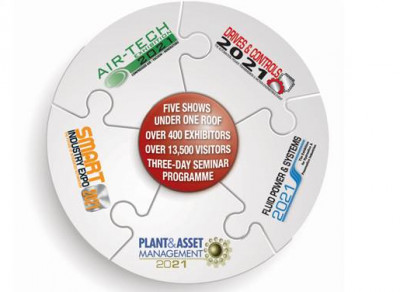 Following the 17 July announcement from Prime Minister Boris Johnson that exhibitions and conferences will be permitted in England from 1 October this year, DFA Media is busy preparing for its eagerly anticipated biennial co-located exhibitions and conferences, taking place from 25 to 27 January 2021 at the NEC, Birmingham. The shows, which will all adhere to strict COVID-secure practices in line with Government guidelines, will comprise Fluid Power & Systems, Air-Tech Exhibitions, Smart Industry Expo, Drives & Controls and Plant & Asset Management. For 2021, Subcon and associated shows will also join these co-located shows.
These exhibitions will be run alongside MACH to form one of the largest industry events seen for many years in the UK, expected to bring over 40,000 visitors to the NEC over a single week. The colocated shows are being held in association with BCAS, BFPA, BVAA, GAMBICA, AEMT, EPTDA, CEA, BARA, PI (Profibus, Profinet), EPMA and MTC.
Fluid Power & Systems and Air-Tech (Compressed Air, Generators and Pneumatics) are the only shows in the UK that are 100% focused on a comprehensive range of hydraulic and pneumatic equipment, together with products that facilitate better lectromechanic system design and application for improved process automation, control, monitoring and analytics.
Fully supported by the British Fluid Power Association (BFPA) and Hydraulics & Pneumatics magazine, Fluid Power & Systems comprises the largest gathering of companies from around the world displaying and demonstrating the latest in mechanical and electro-mechanical equipment. Whatever your industrial sector, whether engineering, construction, offshore/marine, oil & gas, agriculture/farming, automotive, aerospace etc., Fluid Power & Systems – with free entry for visitors – offers a convenient one-stop shop for all your fluid power and system requirements, including:
Hydraulics: industrial and mobile, including pumps and power packs, cylinders, valves, motors, heat exchangers, and accumulators. Filters and sealing technologies.
Pneumatics: valve and valve islands, linear and rotary actuators, air motors, FRLs and other treatment technologies.
Systems: Electro-hydraulic & pneumatic systems design; CAN bus technology; process automation; monitoring & control; modelling & simulation.
Instrumentation: Sensors, switches and controls as applied to fluid power: Temperature, flow, pressure, liquid level, position.
Air-Tech will again cover the very latest in compressed air, vacuum and generators from the UK's largest gathering of world-class companies. Supported by Hydraulics & Pneumatics and Plant & Works Engineering magazines, visitors to Air-Tech will be able to see a wide range of equipment and solutions, including the following:
Co-location advantage
The 5 co-located DFA Media exhibitions showcase the best of British manufacturing and engineering excellence with regular visitor attendance in excess of 13,500.
Digitalisation and Engineering Forums
Located at the heart of the 2021 colocation will be The Digitalisation and Engineering Forums.
Engineering Forum
With a strong emphasis on technology, the Engineering Forum will bring together all aspects of hydraulics, pneumatics, robotics and automation, plant and asset management, energy efficiency, machine safety, drives, motion control, legislation, system strategies and technological developments. Featuring representatives from across industry including government agencies, research bodies, trade associations and manufacturers.
Digitalisation Forum
The Digitalisation Forum, sponsored by Pilz, will fully reflect the ongoing global transformation to the smart manufacturing era and provide a fascinating insight into the potential plants of the future, covering all aspect of the digital transformation across the manufacturing spectrum. Leading experts will address the vast array of information around 4IR, discussing the practicalities, technologies and issues surrounding transition and implementation of digitalisation in UK manufacturing. Over the course of the three-day seminar programme, visitors will have the opportunity to learn how they can seize the opportunities that exist and promote the benefits of adopting emerging digital technologies through a range of practical case studies, panel discussion and seminars.
Long-awaited opportunity
DFA Media director, Ryan Fuller, commented: "Following the postponement of the event that was initially scheduled to take place this April, we have been working incessantly behind the scenes to ensure all the January 2021 shows and conferences provide our exhibitors and presenters with a long-awaited opportunity to promote the latest product innovations and industry insights, while allowing visitors to exploit this unique opportunity to source the technologies they need to help them take advantage of new opportunities and stay competitive.
Moreover, top of mind will also be the paramount importance of ensuring all our exhibitors, presenters, visitors and staff are kept safe during these challenging times. With this in mind, we will put in place a user-friendly and operationally effective health & safety regime. Everyone at DFA Media very much looks forward to meeting our industry friends and associates in person again at an event that promises to be the largest and most comprehensive for a generation here in the UK."
---