Integrated, decoupled technology points the way forward
26 July, 2019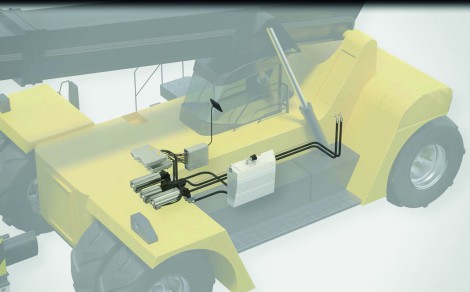 In contrast, decoupled solutions have much to offer, not least regarding engine management and the potential to reduce the size of the ICE or remove it all together. In addition, there are many efficiency and productivity improvements available with respect to energy recovery, power on/off demand and the operation not being dependent on the ICE speed or torque. The configuration of these solutions also provides a more flexible installation and greater safety, largely through the elimination of hydraulic lines near heat sources. Crucially, these factors combine to improve the total cost of ownership (TCO).
Integrated system
One such solution is the Parker Electro-Hydraulic Pump System (EHPS) for materials handling and reach stacker applications. This type of integrated system provides the opportunity to realise energy cost savings of up to 50%, while also delivering the potential to reduce the size of the engine and thermal management provision, saving weight and further optimising overall efficiency.
The key point here is that this development has addressed a market requirement for decoupled loads and power distribution. Such a design concept facilitates enhanced engine management whereby energy storage and recovery functions can be introduced. The size of the drive system can be perfectly matched to the requirement, giving power on demand, eliminating any waste, whilst also capturing any returned energy on load lowering.
To break down the configuration further, Parker's complete system solution comprises invertor driven electro-hydraulic pump sub-system to drive the lifting functions and to recover energy while materials are being lowered. The IQAN control system and embedded Parker-derived software provides the system function and operational interface, while peripheral manifolds and system components deliver functionality to key services throughout the wider hydraulic system.
Longer run times
Optimising efficiency and capturing energy also clears the way for the creation of hybrid and fully electric vehicles that have a fuel/charge period that enables extended running times, thus meeting the demanding duty cycles required in heavy duty mobile applications. Maintenance requirements are also reduced thanks to the benefits of a smaller constant-speed engine, lower generated heat related to efficiency improvements, and advanced system 'health' monitoring.
The capability of the EHPS has already been put to the test in a number of successful customer applications. For instance, a hybrid wheel loader achieved a 50% reduction in its energy requirement. Additionally, the system's high-power density allowed a smaller frame to be deployed. The project also saw hydraulic heat reduced significantly, which in turn enabled reduced sizing of thermal management hardware such as the pump, fan motor, fan and radiator.
This integrated, space-saving solution also proved successful in a hybrid electric lift truck developed by Konecranes Lifttrucks, which again demonstrated fuel savings (30%) and productivity improvements with quicker operator responses in lifting, lowering and driving. In addition, maintenance proved easier due to the system's modular design and self-diagnostics, while it is predicted that up to 100 tonnes less CO2 emissions will be generated based on 5000 hours running time per year.
Ultimately, energy recovery via electrification will of course allow longer equipment usage. Crucially however, this technology will permit end users to satisfy the requirements of environmental and emissions regulations. The world needs less pollution and this technology is a clear solution towards meeting that aim.
---
AIR-TECH EXHIBITION


16 April, 2024, 9:30 - 18 April, 2024, 4:00




Hall 9, the NEC, Birmingham, UK

FLUID POWER & SYSTEMS EXHIBITION


16 April, 2024, 9:30 - 18 April, 2024, 4:00




Hall 9, the NEC, Birmingham, UK