BFPA Technical Conference on 'Managing Fluid and Lubricant Contamination'
26 September, 2018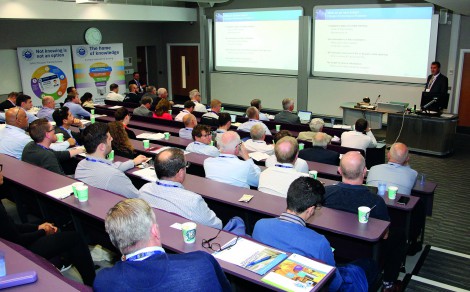 15:00 – Break & Exhibition.
15:30 – The Benefits of Water Removal Technology by Phil Keep, MP Filtri.
16:00 – Water contamination in mineral oil based hydraulic fluids: lessons learned from a T6H20C test rig by Steffen Sandhoefner, Laxness.
16.30 – Close.
The first day's proceedings were followed by a Conference Dinner at the nearby Bailbrook House Hotel.
11 September programme
The Session Chair for the second day of the conference was Matt Fielder, Market Development Manager, Stanhope-Seta Ltd. The conference programme on 11 September comprised the following speakers and topics:
09:00 – Arrival tea/ coffee & Exhibition 09:30 –Air in oil –A novel approach to optimise de-aeration performance and reducing oil volume by Tobias Daley, Hydac.
10:00 – Reliability Strategies for Optimised use of Hydraulic Fluids by Clive McArdle, Fluitec.
10:30 – Cleanliness Management in Hydraulic Systems – Why it is Necessary and How to Implement it by Mike Day, CMS Consultants.
11:00 – Break & Exhibition 11:30 – Driving uptime improvement and cost-reduction by moving to a predictive maintenance approach by Keith Webb, Pall Europe.
12:00 – A Paradigm Shift in Gas Turbine Lubricant Maintenance by Peter Dufresne, EPT Inc.
12:30 – Buffet lunch & Exhibition.
13.30 – How to Specify The Cleanliness of the Hydraulic Fluid to Suit Your Individual Requirements by Mike Day, CMS Consultants.
14:00 – Long-Term Results of Turbine Oil Antioxidant Replenishment at a Combined Cycle Power Plant by Jatin Mehta, Fluitec.
14:30 – A Review of the Effects of Potash Contamination on Fire Resistant Hydraulic Fluids by Travis Wiens, University of Saskatchewan.
15:00 – Closing Remarks.
More information on BFPA programme details visit the dedicated conference website www.bfpatechnicalconference2018.co.uk
---