ATAM, an Industry 4.0 factory
26 September, 2017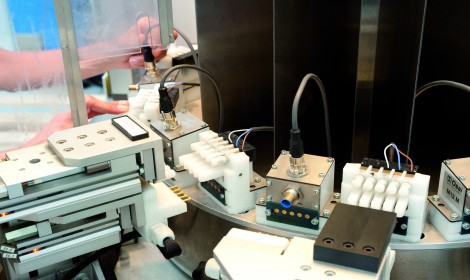 The company also develops custom made connectors, thanks to a technical department with a great understanding of applications. The production takes advantage of state-of-the art transfer machines checking 100% of components and the accuracy of the assembly, thanks to control stations. The company is one of the few in Europe to produce both encapsulated coils and industrial connectors, thereby allowing it to offer its customers products which are jointly developed from the very start of the design process.
The result is integrated solutions providing optimal performance even in the heaviest environmental conditions. The joint development of the two products, combined with high production performance result in products created to the highest standards in terms of quality, reliability and convenience.
Connectors for solenoid valves- overmoulded
The valve connectors with cable are overmoulded with polyurethane material (TPU), this offers a good level of resistance to oils and chemicals and the risk of surface contamination from external sources is greatly reduced. These connectors offer protection from IP 65 to IP 67 and IP69K (certified and complying to IEC 60529). This ensures reliable performance when exposed to fluid jets and dust, when correctly assembled.
In particular, the overmoulded connector with IP69K protection class is recognised for its technical features, notably the integrated screw and gasket, ensuring reliable weather-resistance through time, even in the most demanding off-highway applications. The connector is supplied pre-assembled and the integration of screw and gasket effectively eliminates the risk of losing the parts at the time of removal for maintenance purposes. The family of overmoulded connectors also features built-in control circuits providing additional functions, including LED visual indication, over voltage protection and rectifiers, whilst custom made products are also an option.
---